Good morning
Just wanted to thank you for the box of fabulous products received in the mail yesterday, for our four-legged family member. The service you provide is wonderful and I have a very happy little dog. Thank you so much for your help. May you continue your success.  I'm so glad we found your stall at the market.

Sharon & Butter
These are the best treats for your dogs. All natural ingredients and a great size for a treat. Our dogs have tried all the flavours and they love them all. Delivery is great and always arrive packed well. Thankyou dog house bakery for awesome treats

Dianne
First time trying your treats for my husky and he demolished his Big Boy Bone in half a minute. Definitely coming back for more!

Jess
Got my order today!!! I have two happy labs....will be interesting to see what flavour they like the most from the mixed bag of goodies.

Pam
Salamanca Market Days
We attend Salamanca Market every Saturday stall #110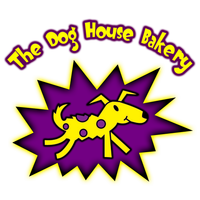 Made in Tasmania from all Natural ingredients
Our treats are all natural and made to human grade with Tasmanian ingredients sourced from local producers. There is no added salt, sugar or fat. They are totally free from artificial additives, flavouring, colouring and preservatives. 
We believe in only giving your best friend that best quality, healthy and natural treats!
Our treats are all proudly made in Tasmania.
We use Tasmanian wholemeal and plain flour, Tasmanian Leatherwood honey, Tasmanian chicken and chicken liver, local free range eggs, freshly ground raw Australian peanuts.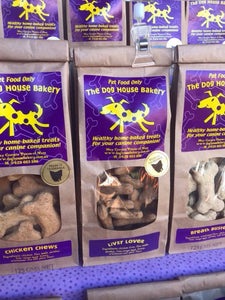 About us
We believe in only giving your dog the best quality treats that are free from additives, colouring and artificial preservatives.  
We have been selling our freshly made treats at Salamanca Market in Hobart for over 10 years and supply numerous pet shops, vets and gourmet supermarkets across Tasmania.  
Variety of treats
We have a variety of treats to suit the most fussy eaters from puppies to large dogs. Treats for specials occasions or just to show your dog you love them.
Our Chicken Chews, Liver Lovers and Tricky Treats are perfect for fussy eaters.  We have treats to help with ticks and fleas, bad breath and even a breakfast treat for first thing in the morning!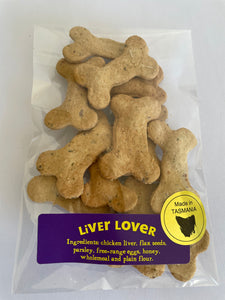 What's New !
Tasmanian Chicken Liver in a thinner small bone - A tasty treat made from Tasmanian chicken liver,parsley and flax seeds that your dog will love. 
We use RSPCA approved Tasmanian chicken liver only.   
Great for the fussiest of eaters and full of flavour.  
This thinner treat is ideal for older and small dogs or puppies. For dogs with weak or only a few teeth, you can dip the treats in water or milk to soften them up. 
High in Iron , Protein, and Vitamins but low in fat.
Shop
Where you can buy our treats
Salamanca Market Stall #110 - Saturday 
Hill Street Grocers - Sandy Bay, West Hobart, Newtown, Blackmans Bay, Longford, Latrobe and Devonport 
Hobart Pet Centre - Hobart
Eastlands Pet Supplies - Rosny
West Hobart Express -West Hobart
Mount Nelson Store - Mt Nelson
Battery Point Post Ofice - Battery Point